Lakes of Monte Renosu – Hiking Trip in Corsica (7 days)
Venturing on the trails around the Lacs du Monte Renosu is certainly the promise of discovering a wild Corsica but also a total change of scenery.
Welcome on Saturday at 2pm at Ajaccio airport.
End of the course on Saturday and return to the airport at around 9am.
Authentic and wild, a beautiful hiking trip along forest trails, but also on transhumance paths and stream beds. Thus, off the beaten path, discover a variety of stunning landscapes, forests, lakes and rivers with transparent pools. Passing through the amazing glacial valley of Pozzi with a thousand water holes surrounded by meadows.
Through this trip, discover the Fauna and Flora, an exceptional heritage of our island of Beauty!
Welcome on Saturday at 2pm at the Ajaccio airport, or directly at the Bocognano base in the early afternoon.
In order to book the transfer, please contact us a few days before the start of your stay.
For those coming by car from Ajaccio, first take the direction Bocognano-centre. Next, you need to pass in front of the town hall, the bar des Amis and finally the bakery. You then cross a bridge, then turn left and then left again towards Richiusa.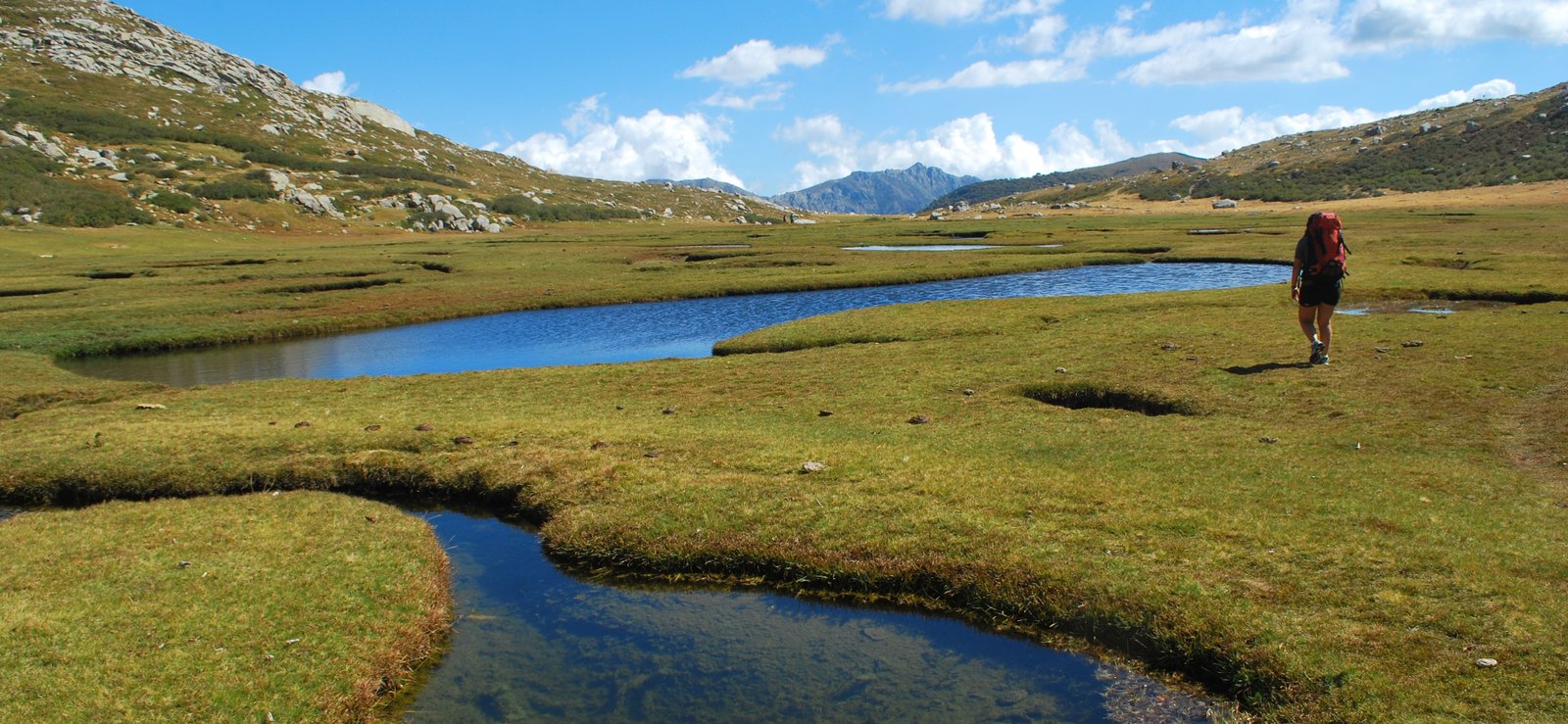 Program
Saturday: Welcome and transfer to the base camp in Bocognano
Meet at the Ajaccio Airport at 2:00 PM and depart for Bocognano. Welcome, meet your guide and the group, and prepare for the hike. Dinner and overnight at the Cors'Aventure private base camp.
Sunday – Discovery
Discovery of a wild valley, waterfalls and crystal-clear basins, hiking and swimming. Dinner at the private refuge and overnight at the Cors'Aventure private base camp. Prepare the bags for the raid.
Monday – Shepherd's Huts of Verdanese
Elevation gain: +1,100 m
Hike to the shepherd's huts of Verdanese, passing through the shepherd's huts of Muru Cintu and Porcilelli. This route takes us through the different levels of Corsican vegetation. Bivouac overnight.
Tuesday – Village of Bastelica
Elevation gain: +650 m / -500 m
Hike down to the village of Bastelica via the Ortola waterfalls and the old transhumance trails, then back up to the Mezzaniva shepherd's huts.
Bivouac overnight.
Wednesday – Glacial Valley of Pozzi
Continue the transhumance to finally reach the glacial valley of Pozzi and its magnificent bog. This pasture dotted with amazing water holes will also take us through Lake Vitalaca.
Bivouac overnight.
Thursday – Monte Renosu
Elevation gain: +650 m / -750 m
Hike up Monte Renosu off-trail, 2,352 m. You will discover a magnificent panorama of the Corsican peaks as well as a breathtaking view of the lakes of Monte Renosu. Then descent via Lake Bastani to the Capanelle refuge. Overnight in the dormitory at the u Fugonu refuge.
Meal at the guesthouse.
Friday – Vizzavona
Elevation gain: +400 m / -1,000 m
Return to Vizzavona: either via the crossing of Pinzi Corbini, in a superb mineral landscape, or via the GR along shepherd's huts and streams. To conclude, train transfer from Bocognano to Ajaccio. End of the stay.
Important: This program is provided for information purposes only and may be subject to changes or adjustments depending on the weather conditions.
or call-us at:
04 95 25 91 19
The price includes:
Local transfers, accommodation, meals, supervision, technical equipment necessary for the activity (see list of personal equipment and loaned equipment) from the meeting time on the first day at the Ajaccio airport until the scheduled departure time on the last day.
The price does not include:
Drinks and personal expenses, toiletries, personal insurance, and any other supplement not included in the program.
Lakes of Monte Renosu Technical Level: Level 3
4 to 6 hours of hiking per day on trails that are sometimes little frequented. Maximum altitude gain of 1100 m. Good walking pace, so it is necessary to have a good mountain foot, that is to say a certain agility and ease not only off-trail, or on ridge passages, but also in chaos of rocky blocks, maquis and scree.
Evaluation: You practice at least twice a week a sporting activity and you will be able to maintain a good endurance at a regular pace such as running 5 km in less than 30 minutes while talking.
For the success of the stay, and therefore for everyone to enjoy it fully, as well as for safety reasons, it is necessary that you have the required levels. If this is not the case, our instructor may refuse you to follow the program. It may not be possible to offer you a replacement program and we will not be able to refund your stay.
Equipment to bring
Gear to bring :
Included gear :
Gear provided : tent and mattress. These gear are previously put on each place you will sleep, meaning you won't have to carry it.
Non included gear :
Please note that the temperature might be low at altitude and there might be some wind. In this way, take warm clothes with you. We are able to store some of your stuff at our camp base, please make sure you have an extra bag to this end.
Mandatory gear to have :
50L hiking bag with a fitting rain cover
midcut hiking shoes (that cover the ankle, some you already walked with)
sleeping bag 5°C confort (the nights are chilly even during summer time)
2 or 3 outfits (hiking pants, shorts and shirts)
thermal baselayer with long sleeves
midcalf hiking socks
Gore-tex jacket
Cap or hat, sunglasses
Gloves, beanie and neckwarmer
For the evenings :
sandals
Comfortable pants
woolly socks
Fleece jacket
Down jacket
Warm baselayer
Other gear :
microfiber towel
toiletry bag (toothbrush, toothpaste, soap, earplug, toilet paper)
Swimsuit
headlamp with its charger
collapsible walking pole
2 flasks of 1.5L of water (meaning 3L in total) or a Camelback
hermetic plastic bag to partition your gear
kitchen kit (hermetic lunchbox such as "Tupperware" of 0.8L, cutlery, tumbler)
a tube of strong glue
2 bin bags of 50L
washing line and pegs
adaptor with 3 outputs (classic or USB)
dried fruits, cereal bars….
First-aid kit, recommended content :
sunscreen for both skin and lips
personal medicine if you are subject to specific disorders (allergies and so on)
necessities to avoid and treat blisters (dressings such as "Compeed", cream Nok)
necessities to relieve ankle and knees problems (strips such as "Elasto")
necessities to clean an insignificant wound (soaked compress)
Necessities to relieve intestinal discomforts due to a change in your diet (probiotics, Smecta, Imodium, Tiorfan)
Necessities to relieve headache and sore muscles (mineral salt or electrolytes for example)
Necessities to relieve the stings
Necessities to relieve the seasickness
thick survival blanket (mandatory)
Please seek advice from your doctor and from your pharmacist. Please note that you will have to carry your first-aid kit with you, in this way do only bring what is strictly necessary.
Accommodation
5 nights in tents and one night in a gite. Gear provided : tent and mattress. These gear are previously put on each place you will sleep, meaning you won't have to carry it. However you will be asked to provide a sleeping bag liner.
Catering
Continental breakfasts, cold cooked lunches and hot meals for dinner. Each and every meal is prepared with the assistance of the entire group. Every meal is provided with fresh vegetables and local products. Varied menu all along the trip.
Guidance
Each hiking trip is led by a state-certified guide who is a specialist in hiking. With knowledge of the terrain and the environment, as well as mastery of safety and logistics, they will do everything in their power to ensure that you fully enjoy your stay.
Carry
Between 8 and 11 kg. Carrying personal belongings for 4 nights, and for the lunch picnic, as well as fresh food for 2 and a half days.